Amsterdam adds to exchange Brexit spoils with Cboe win
LONDON (Reuters) - Chicago-based Cboe Global Markets (CBOE.O) will open a European Union stock trading venue in Amsterdam in time for Britain's departure from the bloc next March, adding to the Dutch city's Brexit spoils.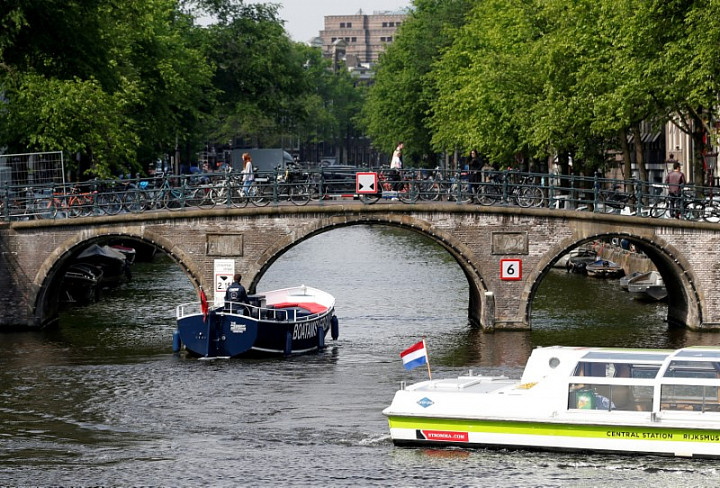 FILE PHOTO: Tourists boats pass on a canal in Amsterdam, Netherlands, May 16, 2018. Picture taken May 16, 2018. REUTERS/Francois Lenoir/File Photo
Success in attracting Cboe Europe, the largest pan-Europe stock exchange by market share, is a major win for Amsterdam and helps counter a trend for banks and funds to pick rival centers such as Frankfurt, Dublin and Luxembourg.
London is Europe's biggest securities trading center and home to several pan-EU platforms including Cboe that must now rethink their cross-border set-up due to Brexit potentially fragmenting market access.
Amsterdam has already won business from venues including Tradeweb and MarketAxess, wooed in part by the city's connectivity speeds, which have made it popular with so-called high-frequency traders.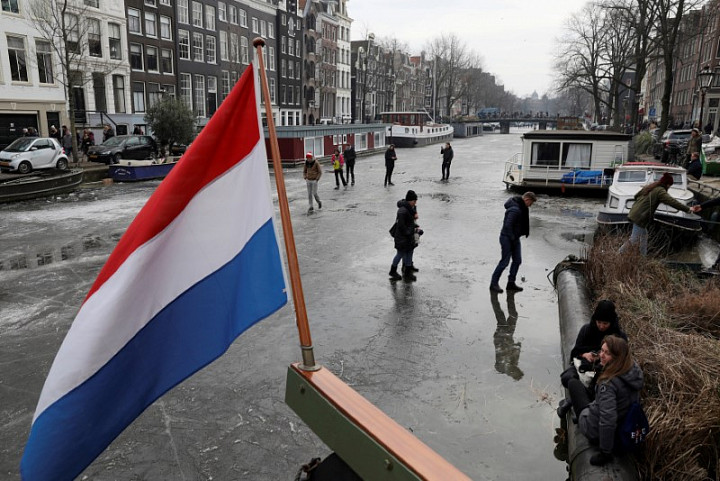 FILE PHOTO: Ice skaters skate on the frozen Prinsengracht canal during icy weather in Amsterdam, the Netherlands March 3, 2018. REUTERS/Michael Kooren/File Photo
London-based FX and fixed income trading platform NEX (NXGN.L), which is being taken over by U.S. exchange CME (CME.O), is opening an EU base in the Dutch financial capital.
New York Stock Exchange owner ICE (ICE.N), whose European base is in London, has not said if it will expand its Dutch operations which include an energy exchange and little used clearing house.
Other UK-based trading platforms, such as Aquis Exchange (AQX.L) and the London Stock Exchange's LSEG.L Turquoise, have also yet to set out their Brexit plans.
"We believe that the Netherlands is supportive of competitive and open financial market infrastructure and we feel Amsterdam is a fantastic location to establish our EU venue," Mark Hemsley, president of Cboe Europe, said in a statement.
It also said it had "longstanding and good relations" with the Dutch regulator and central bank, "which have a deep understanding of the equities and derivatives markets".
Cboe, which already has a stake in Amsterdam-based pan-European clearing house EuroCCP, said it had filed an application with the Dutch Authority for the Financial Markets to establish an equities trading venue.
Cboe said it needed to set up the new venue to ensure continued access to European clients after Brexit, but would still operate its existing Registered Investment Exchange in Britain and look to offer similar services on both venues.
The Amsterdam exchange would be staffed by a mix of local hires and staff moved from other locations, a spokeswoman said, without giving further details. It would be ready to serve European customers from April 2019.
Cboe has around 80 staff in London, Hemsley told Reuters, adding the exchange picked Amsterdam over Dublin.
The announcement comes as senior British politicians meet on Friday to agree their position on the shape of Britain's future relations with the bloc, and as many financial services firms continue to plan for a collapse in talks.
Aquis Exchange, which has just listed in London, said it had narrowed down plans for an EU base to two cities and would take a final decision in the next few months.
TP ICAP (TCAPI.L), an interdealer broker, told staff on Tuesday it was speaking to a number of EU regulators about opening a subsidiary in the bloc.
Additional reporting by Noor Zainab Hussain in Bengaluru; Editing by Mark Potter
More